The first thing you need to do is find out if you live in a storm surge hurricane evacuation zone or if you're in a home that would be unsafe during a hurricane. If you are, figure out where you'd go and how you'd get there if told to evacuate. You do not need to travel hundreds of miles. Identify someone, perhaps a friend or relative who doesn't live in a zone or unsafe home, and work it out with them to use their home as your evacuation destination. Be sure to account for your pets, as most local shelters do not permit them. Put the plan in writing for you and those you care about.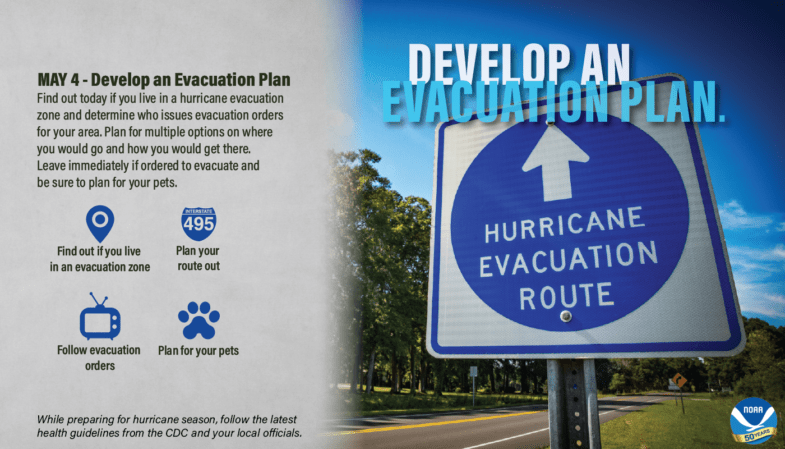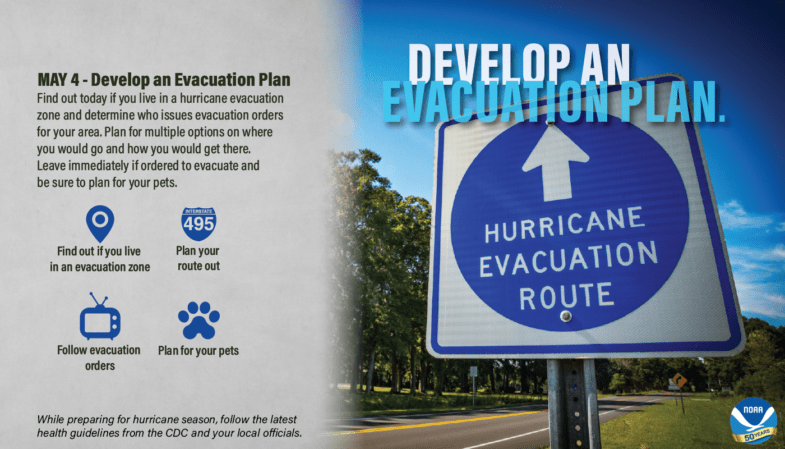 Thanks to NOAA for the above graphic and video!
Have an Evacuation Plan Thanks to FLASH for the information below!
Discuss what to do in an evacuation with everyone in your family.
Know where you will go if an evacuation is called.
Review at least two exit routes from your home or neighborhood to a designated meeting place for your family.
Don't forget about your pets; they are not allowed at most public shelters.
Pack Your Bags
After a disaster, you may not be able to return to your home for some time.
Assemble everything your family will need in advance if you must evacuate your home.
Pack one change of clothes and shoes per person as well as one blanket or sleeping bag per person.
Write down the name of your insurance company, policy number and telephone number and keep it in a safe place.
Include an extra set of car keys, your credit cards, cash and/or traveler's checks. Don't forget your important emergency contact numbers.
Create a first aid kit that includes your family's prescription medications.
Pack sanitation supplies and special items for babies, senior citizens or disabled family members
Bring extra eyeglasses and a favorite family board game to help pass the time away from home.
If You Must Evacuate
Before You Go
Unplug electrical equipment such as radios, televisions and small appliances. Leave freezers and refrigerators plugged in unless there is a risk of flooding. If there is damage to your home and you are instructed to do so, shut off water, gas and electricity before leaving.
Post a note telling when you left and where you are going.
Don't forget about your pets and be sure to lock your home.
Evacuate Immediately
Evacuate immediately if authorities tell you to do so.
Listen to your battery-powered radio and follow the instructions of local emergency officials.
Wear layered warm, dry clothing and sturdy shoes.
Be sure to take your disaster supply kit with you to a shelter or safe location. Use travel routes specified by local authorities — don't use shortcuts.
FIND YOUR EVACUATION ZONE AND PLAN NOW BELOW!
FLASH.org
Facebook Comments