– Published April 30, 2020
– Updated: May 9, 2020 (Accuweather update)
– Updated: May 21, 2020 (NOAA Forecast below)
The 2020 hurricane season begins June 1st!
May 1st, 2020 – The official start of the 2020 Atlantic Hurricane Season is now a month away and ALL major organizations are forecasting an ABOVE AVERAGE ACTIVE Season! I will cover these forecasts below. Please NOTE that even with an active season the bottom line is it's impossible to know for certain if a U.S. hurricane strike will occur this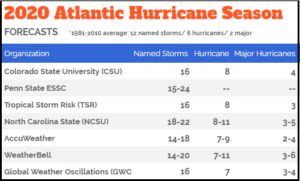 season. Keep in mind that whether its a below or above average season it only takes 1 storm to devastate a community and even a weak tropical storm hitting the U.S. can cause major impacts, particularly if it moves slowly and triggers flooding rainfall! The main reasoning behind their forecasts is the likelihood of an ENSO neutral to La Niña developing and also above average Sea Surface Temperatures (SST) this year, especially in the Gulf of Mexico and MDR Atlantic.
FACT: The 2019 season marked the fourth consecutive year of ABOVE-average activity in the basin and was tied with 1969 for the fourth most-active hurricane season on record!
How Much of a role Will El Niño, ENSO Neutral or La Niña Play?
El Niño/La Niña is the periodic warming/cooling of the equatorial eastern and central Pacific Ocean, it can shift weather patterns over a period of months. Its status is always one factor that is considered in hurricane season forecasting. Read more: El Niño/La Niña Status (ENSO) – Impacts of ENSO on Hurricane Season
Long-range forecasters at both NOAA and The Weather Company, an IBM Business, and CSU suggest that neutral conditions are anticipated through the first half of the hurricane season (June through August, or JJA), with either neutral or La Niña conditions possible in the second half (September through November, or SON). La Niña generally acts as a speed boost to the Atlantic hurricane season, but it is just one factor that can lead to an active year. Hurricane seasons can be active even if La Niña is not in play.
Other Factors in Play… 
One of the other ingredients that meteorologists are looking at going into the hurricane season is Sea Surface Temperatures (SST) and how warm the Atlantic, Caribbean and Gulf of Mexico are. Much of the Atlantic Basin's waters are already above average temperature-wise. The Gulf of Mexico is also several degrees above average, given recent heat and the lack of rain over the Southeast.
The prevalence of wind shear across the Atlantic will also need to be watched over the next six to eight months. If La Niña does kick in toward the end of the season, as many forecasters expect, and the atmosphere responds to it, then there could be less wind shear and more favorable conditions for hurricane growth toward the end of the season.
How much dry air rolls off the coast of Africa will also need to be monitored. Even if water temperatures are boiling and there is little wind shear, dry air can still disrupt developing tropical cyclones and even prohibit their birth to begin with.
Hurricanes need a rather precise set of ingredients to come together in order for them to fester, so all of these ingredients above will need to be monitored this year.
LETS DIVE INTO EACH FORECAST…
NOTE: Based on a 30-year average a typical season has 12 named storms, six hurricanes, and three major hurricanes.
UPDATED MAY 21 – NOAA releases their official forecast – 60% chance for an ABOVE-AVERAGE SEASON – according to forecasters with NOAA's Climate Prediction Center, a division of the National Weather Service. The outlook predicts a 60% chance of an above-normal season, a 30% chance of a near-normal season and only a 10% chance of a below-normal season. The Atlantic hurricane season runs from June 1 through November 30. NOAA's Climate Prediction Center is forecasting a likely range of 13 to 19 named storms (winds of 39 mph or higher), of which 6 to 10 could become hurricanes (winds of 74 mph or higher), including 3 to 6 major hurricanes (category 3, 4 or 5; with winds of 111 mph or higher). Entire forecast: http://www.noaa.gov/media-release/busy-atlantic-hurricane-season-predicted-for-2020
Colorado State University (CSU) – ABOVE-AVERAGE SEASON – led by Dr. Phil Klotzbach they call for 16 named storms, 8 hurricanes and 4 major hurricanes. A major hurricane is one that is Category 3 or higher (115-plus-mph winds) on the Saffir-Simpson Hurricane Wind Scale. There's a 69% chance for at least one major hurricane to make landfall along U.S. shores, compared with an average over the last century of 52%, CSU researchers said. There is a 95% chance — the average is 84% — that at least 1 hurricane this year will make landfall in the US. CSU bases this active season off a transition to neutral (neither El Niño nor La Niña) or potentially even weak La Niña conditions by this summer or fall and above average SSTs. Entire forecast: http://tropical.colostate.edu/media/sites/111/2020/04/2020-04.pdf
Tropical Storm Risk, Inc. (TSR) – ABOVE-AVERAGE SEASON – TSR raises its extended range forecast and predicts Atlantic hurricane activity in 2020 will be 25% above the long-term norm. The are calling for 16 named storms, 8 hurricanes and 3 major hurricanes. However, they note this outlook has large uncertainties. They point out that climate signals in August-September 2020 are showing more favorable conditions for Atlantic hurricane activity. These anticipated fields are warmer than normal tropical North Atlantic water temperatures and neutral-to-weak La Niña ENSO (El Niño Southern Oscillation) conditions. Entire forecast: http://www.tropicalstormrisk.com/docs/TSRATLForecastApr2020.pdf
Penn State ESSC – ABOVE-AVERAGE SEASON – PSU calls for 15 to 24 named storms this year. Their best estimate is 20 storms. PSU team of scientists, which include renowned climate scientist Michael E. Mann, said we could be looking at one of the most active hurricane seasons on record. The assumptions behind this forecast are (SST) anomalies, development of mild El Niño-Southern Oscillation (ENSO)-negative conditions and climatological mean conditions for the North Atlantic Oscillation. Entire forecast: http://www.essc.psu.edu/essc_web/research/Hurricane2020.html
North Carolina State University (NCSU) – ABOVE-AVERAGE SEASON – The forecast from NCSU is predicting 18-22 named storms, 8 to 11 hurricanes and 3 to 5 of those to become major hurricanes. Lian Xie, professor of Marine, Earth, and Atmospheric Sciences at North Carolina State, believes the Gulf of Mexico may see more storm formation this year. During an average year, the Gulf typically sees three named storms develop there. In 2020, Xie feels that an above average number of storms could develop in the Gulf. His team is predicting that 6 to 10 tropical systems will develop in the Gulf of Mexico this season.
AccuWeather.com – ABOVE-AVERAGE SEASON – UPDATE: AccuWeather increases number of hurricanes predicted for 'very active' 2020 Atlantic season. Based on the newest forecasting models, AccuWeather forecasters have extended the upper range of hurricanes predicted for the Atlantic hurricane season. The hurricane team, led by Dan Kottlowski, the company's top hurricane expert, is now predicting 14 to 20 tropical storms, with additions also to the number of storms that become hurricanes: seven to 11 this season. Kottlowski also increased the number of major hurricanes – Category 3 or higher – that could develop this season to four to six. Kottlowski warned that four to six named tropical systems could make direct impacts on the U.S mainland, Puerto Rico and the Virgin Islands.
Original Forecast: AccuWeather is calling for 14-18 storms during this upcoming season. Of those storms, 7 to 9 are forecast to become hurricanes, and 2 to 4 are predicted to strengthen into major hurricanes. Led by Dan Kottlowksi, AccuWeather's top hurricane expert and fellow meteorologists will keep a watchful eye on parts of the Caribbean Sea and areas east of the Bahamas, where the water is already very warm. Water temperatures in the Caribbean have already hit 80 degrees Fahrenheit in late March, according to data from a NOAA station. Entire forecast: http://www.accuweather.com/en/hurricane/accuweathers-2020-atlantic-hurricane-season-forecast/705233
WeatherBELL.com – ABOVE-AVERAGE SEASON – WeatherBell is also calling for 14-20 named storms, 7 to 11 hurricanes and 3 to 6 of those to strengthen into major hurricanes. They note that there are many similarities to some notable hyperactive seasons like 2005 and a warm Atlantic Basin is already in place and no El Niño is expected. With the warm Atlantic Basin SSTs already in place, no El Niño, and an upward motion forecast that looks like a favorable MJO pattern for the hurricane season, this first "vision" of 2020 is for a big season. Entire forecast: http://www.weatherbell.com/prelim-2020-hurricane-season-forecast
Global Weather Oscillations (GWO) – ABOVE-AVERAGE SEASON – GWO's prediction calls for 16 named storms, 7 hurricanes and 3 to 4 major hurricanes. They note the United States can expect 5 named storms to make landfall, with 2 or 3 hurricane landfalls – one of which will likely be a major category 3 hurricane. Professor David Dilley – senior research scientist for GWO, says several favorable meteorological and climatological factors are in place to produce another above average hurricane season this year. Some of the factors include a 72-year ClimatePulse Hurricane Landfall Enhancement Cycle – coupled with the continuance of above normal warm Atlantic Ocean and Gulf of Mexico water temperatures – and the lack of either a moderate or strong El Niño to subdue the hurricane seasons. Entire forecast: http://www.globalweatheroscillations.com/
Here are your 2020 Atlantic Hurricane Season Names: Arthur, Bertha, Cristobal, Dolly, Edouard, Fay, Gonzalo, Hanna, Isaias, Josephine ,Kyle, Laura, Marco, Nana, Omar, Paulette, Rene, Sally, Teddy, Vicky and Wilfred!!!
Note: There is no strong correlation between the number of storms or hurricanes and U.S. landfalls in any given season. One or more of the named storms forecast to develop this season could hit the U.S., or none at all. Therefore, residents of the coastal United States should prepare each year no matter the forecast.
A couple of classic examples of why you need to be prepared each year occurred in 1992 and 1983. The 1992 season produced only six named storms and one subtropical storm. However, one of those named storms was Hurricane Andrew, which devastated South Florida as a Category 5 hurricane. In 1983 there were only four named storms, but one of them was Alicia. The Category 3 hurricane hit the Houston-Galveston area and caused almost as many direct fatalities there as Andrew did in South Florida.
In contrast, the 2010 season was active. There were 19 named storms and 12 hurricanes that formed in the Atlantic Basin. Despite the large number of storms that year, not a single hurricane and only one tropical storm made landfall in the United States.
In other words, a season can deliver many storms, but have little impact, or deliver few storms and have one or more hitting the U.S. coast with major impact. So ALWAYS BE ALERT AND PREPARED NO MATTER WHAT THE FORECAST IS! You can rely on Track The Tropics EVERY YEAR to bring you the latest and most accurate information on Hurricane Season 24/7… STAY TUNED!!
Facebook Comments