The 2019 Hurricane Season as far as numbers go was an active above average one.

It was marked by tropical activity that churned busily from mid-August through October. The season produced

18 named storms, including six hurricanes of which three were "major" (Category 3, 4 or 5)

. NOAA's outlook called for 10-17 named storms, 5-9 hurricanes and 2-4 major hurricanes, and accurately predicted the overall activity of the season. You can find the other Season predictions HERE.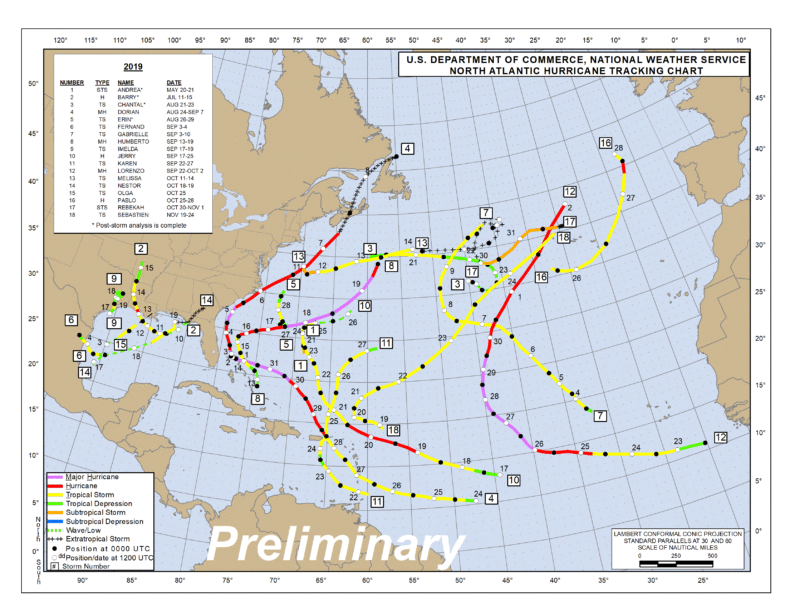 Check out a 60 second satellite loop video of the Season…

Subtropical Storm ANDREA


Duration May 20 – May 21 2019
Peak intensity 40 mph (65 km/h) (1-min)
1006 mbar (hPa) WIKI
Hurricane BARRY


Duration July 11 – July 16 2019
Peak intensity 75 mph (120 km/h) (1-min)
993 mbar (hPa) WIKI
Tropical Depression THREE


Duration July 22 – July 23 2019
Peak intensity 35 mph (55 km/h) (1-min)
1013 mbar (hPa) WIKI
Tropical Storm CHANTAL


Duration August 20 – August 23 2019
Peak intensity 40 mph (65 km/h) (1-min)
1007 mbar (hPa) WIKI
MAJOR Hurricane DORIAN (Category 5)


Duration August 24 – September 10 2019
Peak intensity 185 mph (295 km/h) (1-min) 
910 mbar (hPa) WIKI
Tropical Storm ERIN


Duration August 26 – August 29 2019
Peak intensity 40 mph (65 km/h) (1-min)
1002 mbar (hPa) WIKI
Tropical Storm FERNAND


Duration September 3 – September 5 2019
Peak intensity 50 mph (85 km/h) (1-min)
1000 mbar (hPa) WIKI
Tropical Storm GABRIELLE


Duration September 3 – September 10 2019
Peak intensity 65 mph (100 km/h) (1-min)
1005 mbar (hPa) WIKI
MAJOR Hurricane HUMBERTO (Category 3)
Duration September 13 – September 20 2019
Peak intensity 125 mph (205 km/h) (1-min)
950 mbar (hPa) WIKI
Tropical Storm IMELDA


Duration September 17 – September 21 2019
Peak intensity 45 mph (75 km/h) (1-min)
1003 mbar (hPa) WIKI
Hurricane JERRY


Duration September 17 – September 24 2019
Peak intensity 60 mph (95 km/h) (1-min)
976 mbar (hPa) WIKI
Tropical Storm KAREN


Duration September 22 – September 27 2019
Peak intensity 45 mph (75 km/h) (1-min)
1003 mbar (hPa) WIKI
MAJOR Hurricane LORENZO (Category 5)
Duration September 23 – October 4 2019
Peak intensity 160 mph (260 km/h) (1-min)
925 mbar (hPa)

WIKI
Tropical Storm MELISSA


Duration October 11 – October 14 2019
Peak intensity 65 mph (100 km/h) (1-min)
994 mbar (hPa) WIKI
Tropical Depression FIFTEEN


Duration October 14 – October 16 2019
Peak intensity 35 mph (55 km/h) (1-min)
1006 mbar (hPa) WIKI
Tropical Storm NESTOR


Duration October 18 – October 21 2019
Peak intensity 60 mph (95 km/h) (1-min)
996 mbar (hPa) WIKI
Tropical Storm OLGA


Duration October 25 – October 28 2019
Peak intensity 45 mph (75 km/h) (1-min)
998 mbar (hPa) WIKI
Hurricane  PABLO


Duration October 25 – October 28 2019
Peak intensity 80 mph (130 km/h) (1-min)
997 mbar (hPa) WIKI
Subtropical Storm REBEKAH


Duration October 30 – November 1 2019
Peak intensity 50 mph (85 km/h) (1-min)
982 mbar (hPa) WIKI
Tropical Storm SEBASTIEN


Duration November 19 – November 24 2019
Peak intensity 70 mph (110 km/h) (1-min)
991 mbar (hPa) WIKI
Facebook Comments